workover rig vs drilling rig price
- Oct 14, 2022 -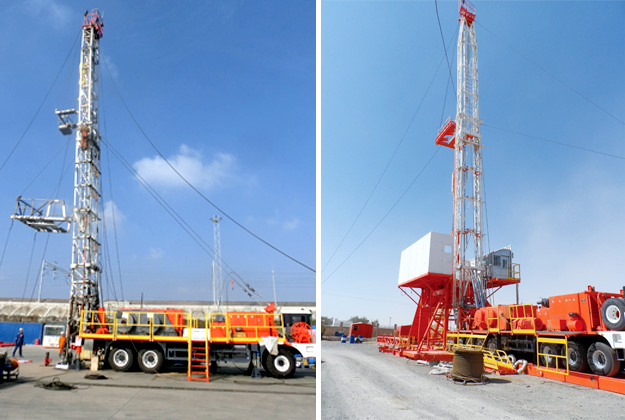 Pumping services tend to get more expensive offshore, because of the degree to which the equipment must be assembled on location. Wire based services still require assembly, but because the parts are smaller can usually be mobilized in larger 'chunks' thus requiring less assembly on location. On land, fluid pumping equipment is much more readily portable on trucks or trailers. Workover rigs on land are incredibly cheap in most places as measured on a per diem basis. Part of their advantage is that they arrive to location with most of their key components already assembled in/on one truck. This advantage disappears offshore where the rig must be assembled on site first.
Paying for a drilling rig or intervention vessel is the price of gaining physical access to the well. Everything else must be added to it to get physical access to the general area and then gain access to the well. There is no need for various forms of standalone pumping services because the vessel or rig will already have a cementing unit and/or the mud pumps available for that sort of work.
Performing the same operation over and over again has significant cost savings attached to it. Once the correct housing and supply arrangements are in place, and all the necessary people and equipment have been assembled, continuing to use it altogether 'as is' can save an enormous amount of money compared to dispersing it all and starting over again later. For land operations, this is most pronounced in areas where reservoir, surface, and operational practices allow for grouping wells together in relatively small areas, and for clustering well pads. Depending on what work is being done to the wells and how close together they are it may be possible to 'hop' from one well to the other without ever moving the equipment on a road or doing a complete rig-down.
Deepwater operations can benefit from this too, but not as much as 'traditional' fixed or surface access facilities, because the overall day rate of the rig or intervention vessel is often much higher, and the process of switching between wells is often much lengthier.
The costs of conducting business in each of these 3 areas tend to scale very roughly in factors of 10. 100 wells making 50 bbls of oil each on land is a cash cow. Offshore that is a disaster, because the cost of servicing those wells is prohibitive. A more reasonable scenario is 10 wells making 500 bbls of oil each. In deepwater, a well making 500 bbls of oil a day is an abandonment candidate, if indeed it got that far along before abandonment. One well making 5,000 bbls a day is more. The direct cost of hiring (for example) a snubbing unit do not scale by factors of 10, but the overall cost of employing a snubbing unit do. As a result, different types of well servicing make sense in one area which may not make sense in another. On land in areas with ordinary access to infrastructure (not the Sahara or Alaska) operations like slickline are often so cheap that they are a routine procedure, with preventative or predictive maintenance schedules to scrape away paraffin or remove small amounts of scale. By contrast, it is completely cost prohibitive to try and attempt to perform similar work in deepwater – you either design and operate the well in such a way that paraffin and scale do not build up in the wellbore at appreciable rates, or you P&A the well. The cost of routine mitigation is simply too high. The relative cheapness of most workover rigs on land is another major factor. Many types of operations which could in theory be carried out in some other way are done with a workover rig simply because it is the most cost-effective technique, even if other methods might be faster, or involve fewer people. The relatively high cost of a rig for offshore facilities means that in most cases every effort short of getting a rig is tried first. Then a catalogue or list of operations to be conducted by a rig at a given facility will be gradually built up over time until they reach a critical level. At that point, a rig will be sent out to conduct all the operations which only it can perform, moving from one well another to save costs by making the work repeatable.
This website is using a security service to protect itself from online attacks. The action you just performed triggered the security solution. There are several actions that could trigger this block including submitting a certain word or phrase, a SQL command or malformed data.
This website is using a security service to protect itself from online attacks. The action you just performed triggered the security solution. There are several actions that could trigger this block including submitting a certain word or phrase, a SQL command or malformed data.
Enjoy the best returns on your investment with these supreme workover rig price ranges at Alibaba.com. Their efficacy and reliability will prove that they're worth their price tags. They will empower you to attain your mining and drilling goals and definitely surpass your expectations.
workover rig price options also include an air compressor, a mud pump, drilling rods of various sizes, connectors, and a drilling tower. Drilling is done using drill bits of various shapes, sizes, and compositions. You can choose between diamond bits, alloy ring-shaped bits, 3-wing alloy bits, PDC bits, and hammer bits. Each drill bit uses different drilling methods, including rotary, percussion, blast hole, and core drilling.
Are you looking for a wholesale workover rig price? Look no more as Alibaba.com has all sorts of pile drivers that will ease your next pile driving process. A pile-driving machine is critical equipment in constructing structures and buildings as it helps in driving piles into the soil. These piles help in providing foundation support for a structure or building under construction. In that way, you can comfortably move a load of the structure to a difficult depth without a machine. Regarding your liking workovers rig price, visit Alibcom.com as they have unlimited pile available at wholesale prices. Inther you are looking for pneumatic tools or hydraulic pipes, you will find them type at affordable prices. If you need a drill, it can advisable to have a workover r price.
Aug 26 (Reuters) - North American onshore rig contractors are spending millions of dollars to add costly "walking" rigs to their fleet, a move that may seem counterintuitive at a time when the slump in crude prices shows no signs of abating.
Such rigs "walk" from wellbore to wellbore, unlike a regular rig that has to be taken apart and reassembled for each move, and save shale producers time and money - as much as 30 percent of the cost to drill a well.
Even though the returns on these investments will not be immediate, rig contractors such as Patterson-UTI Energy Inc and Pioneer Energy Services are pandering to the demand for these rigs.
Demand for rigs have taken a walloping, as oil producers have slammed the brakes on drilling new wells to cope with a 28 percent decline in U.S. crude prices this year.
"As activity starts picking up again, the majority of requests from operators, I think, will be for pad-oriented rigs," said Pioneer Energy CEO Stacy Locke, referring to the popular practice of drilling several wells in one location.
This promise of higher demand and better rates has led rig contractors to either build new walking rigs or spend $1 million to $2 million to attach giant hydraulic walking systems on their regular rigs.
It costs $20 million to $25 million to build a new walking rig, according to Evercore ISI analyst James West. A regular rig used to cost $10 million to $15 million a decade ago and no one has built one recently, he said.
A walking rig can move from one wellbore to another rather quickly - 10 meters in less than an hour. Moving a regular rig can take days and cost up to $1 million.
The payback on a new walking rig is three years in a normal demand environment, and between six and nine months on a rig refurbished with a walking system, according to Wunderlich Securities analyst Jason Wangler.
Still, Patterson, one of the top five contractors in North America based on its hi-spec rig fleet, plans to build 16 high-tech Apex rigs this year. Of those, 15 will be able to walk. It already has more than 100 walking rigs in its fleet of 159.
About two-thirds of Pioneer Energy's 36-rig fleet is now capable of pad drilling. Of them, 24 are walking rigs. The company plans to add another three by the end of the year.
Independence Contract Drilling Inc has 14 rigs and plans to upgrade its last non-walking rig by the end of the year. (Editing by Sayantani Ghosh and Savio D'Souza)
Jereh truck/trailer mounted workover rig is mechanically and hydraulically driven. The power system, drawworks, mast, travelling system and transmission mechanism of the workover rig are mounted on the self-propelled chassis, which improves the moving efficiency greatly. Now, Jereh truck mounted workover rig series cover the workover depth from 2500m to 7000m and drawworks power from 250HP to 1000HP, featuring high operation load, reliable performance, excellent off-road performance, convenient movement and low operation/moving cost. Besides, workover rigs for arctic, desert and highland applications are available.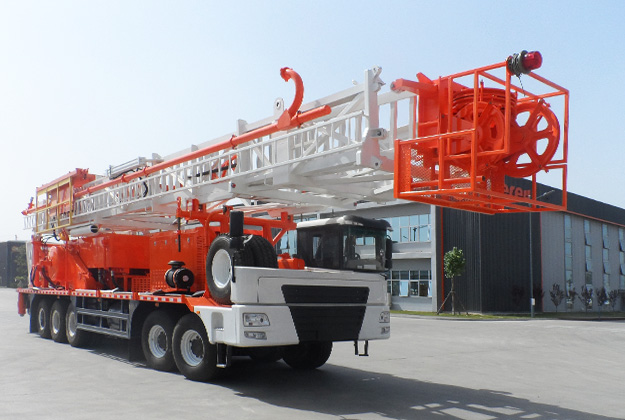 Well Service | Workover Rigs - 844/80 Double drum draw works. looks to be recently rebuilt. Has new Lebus Grooving on Tubing Drum. Comes w/ 250 HP 2 speed jackshaft/RA BOX. More Info
Well Service | Workover Rigs - CARDWELL KB200B Freestanding Oilfield Workover Rig / Service Rig / Pulling Unit, Service Rigs, Used Cardwell KB200B Freestanding Service Rig, 5 Axle Carrier, Detroit 8V71... More Info
Well Service | Workover Rigs - WELL SERVICE RIG - COOPER 350 Well Service Unit p/b DETROIT 8V-92 Diesel Eng, ALLISON 750 Trans, 42X12-38x8 DRAWWORKS w/dual disc assist, 97' 200,000# Telescoping M... More Info
Well Service | Workover Rigs - CRO